The Princess and the Pea
Once upon a time there was a prince who wanted to marry a princess; but she would have to be a real princess. He travelled all over the world to find one, but nowhere could he get what he wanted. There were princesses enough, but it was difficult to find out whether they were real ones. There was always something about them that was not as it should be. So he came home again and was sad, for he would have liked very much to have a real princess.
One evening a terrible storm came on; there was thunder and lightning, and the rain poured down in torrents. Suddenly a knocking was heard at the city gate, and the old king went to open it.
It was a princess standing out there in front of the gate. But, good gracious! what a sight the rain and the wind had made her look. The water ran down from her hair and clothes; it ran down into the toes of her shoes and out again at the heels. And yet she said that she was a real princess.
Well, we'll soon find that out, thought the old queen. But she said nothing, went into the bed-room, took all the bedding off the bedstead, and laid a pea on the bottom; then she took twenty mattresses and laid them on the pea, and then twenty eider-down beds on top of the mattresses.
On this the princess had to lie all night. In the morning she was asked how she had slept.
"Oh, very badly!" said she. "I have scarcely closed my eyes all night. Heaven only knows what was in the bed, but I was lying on something hard, so that I am black and blue all over my body. It's horrible!"
Now they knew that she was a real princess because she had felt the pea right through the twenty mattresses and the twenty eider-down beds.
Nobody but a real princess could be as sensitive as that.
So the prince took her for his wife, for now he knew that he had a real princess; and the pea was put in the museum, where it may still be seen, if no one has stolen it.
[Hans Christian Andersen]
The Ant and the Grasshopper
In a field one summer's day a Grasshopper was hopping about, chirping and singing to its heart's content. An Ant passed by, bearing along with great toil an ear of corn he was taking to the nest.
"Why not come and chat with me," said the Grasshopper, "instead of toiling and moiling in that way?"
"I am helping to lay up food for the winter," said the Ant, "and recommend you to do the same."
"Why bother about winter?" said the Grasshopper; "We have got plenty of food at present." But the Ant went on its way and continued its toil.
When the winter came the Grasshopper had no food and found itself dying of hunger - while it saw the ants distributing every day corn and grain from the stores they had collected in the summer. Then the Grasshopper knew: It is best to prepare for days of need.
The Boy Who Cried Wolf
A shepherd-boy, who watched a flock of sheep near a village, brought out the villagers three or four times by crying out, "Wolf! Wolf!" and when his neighbors came to help him, laughed at them for their pains.
The Wolf, however, did truly come at last. The Shepherd-boy, now really alarmed, shouted in an agony of terror: "Pray, do come and help me; the Wolf is killing the sheep"; but no one paid any heed to his cries, nor rendered any assistance. The Wolf, having no cause of fear, at his leisure lacerated or destroyed the whole flock.
There is no believing a liar, even when he speaks the truth.




Snow White
Once upon a time in mid winter, when the snowflakes were falling like feathers from heaven, a beautiful queen sat sewing at her window, which had a frame of black ebony wood. As she sewed, she looked up at the snow and pricked her finger with her needle. Three drops of blood fell into the snow. The red on the white looked so beautiful, that she thought, "If only I had a child as white as snow, as red as blood, and as black as this frame." Soon afterward she had a little daughter that was as white as snow, as red as blood, and as black as ebony wood, and therefore they called her Little Snow-White.
Now the queen was the most beautiful woman in all the land, and very proud of her beauty. She had a mirror, which she stood in front of every morning, and asked:
Mirror, mirror, on the wall,

Who in this land is fairest of all?
And the mirror always said:
You, my queen, are fairest of all.
And then she knew for certain that no one in the world was more beautiful than she.
Now Snow-White grew up, and when she was seven years old, she was so beautiful, that she surpassed even the queen herself. Now when the queen asked her mirror:
Mirror, mirror, on the wall,

Who in this land is fairest of all?
You, my queen, are fair; it is true.

But Little Snow-White is still

A thousand times fairer than you.
When the queen heard the mirror say this, she became pale with envy, and from that hour on, she hated Snow-White. Whenever she looked at her, she thought that Snow-White was to blame that she was no longer the most beautiful woman in the world. This turned her heart around. Her jealousy gave her no peace. Finally she summoned a huntsman and said to him, "Take Snow-White out into the woods to a remote spot, and stab her to death. As proof that she is dead bring her lungs and her liver back to me. I shall cook them with salt and eat them."
The huntsman took Snow-White into the woods. When he took out his hunting knife to stab her, she began to cry, and begged fervently that he might spare her life, promising to run away into the woods and never return. The huntsman took pity on her because she was so beautiful, and he thought, "The wild animals will soon devour her anyway. I'm glad that I don't have to kill her." Just then a young boar came running by. He killed it, cut out its lungs and liver, and took them back to the queen as proof of Snow-White's death. She cooked them with salt and ate them, supposing that she had eaten Snow-White's lungs and liver.
Snow-White was now all alone in the great forest. She was terribly afraid, and began to run. She ran over sharp stones and through thorns the entire day. Finally, just as the sun was about to set, she came to a little house. The house belonged to seven dwarfs. They were working in a mine, and not at home. Snow-White went inside and found everything to be small, but neat and orderly. There was a little table with seven little plates, seven little spoons, seven little knives and forks, seven little mugs, and against the wall there were seven little beds, all freshly made.
Snow-White was hungry and thirsty, so she ate a few vegetables and a little bread from each little plate, and from each little glass she drank a drop of wine. Because she was so tired, she wanted to lie down and go to sleep. She tried each of the seven little beds, one after the other, but none felt right until she came to the seventh one, and she lay down in it and fell asleep.
When night came, the seven dwarfs returned home from the work. They lit their seven little candles, and saw that someone had been in their house.
The first one said, "Who has been sitting in my chair?"
The second one, "Who has been eating from my plate?"
The third one, "Who has been eating my bread?"
The fourth one, "Who has been eating my vegetables?"
The fifth one, "Who has been sticking with my fork?"
The sixth one, "Who has been cutting with my knife?"
The seventh one, "Who has been drinking from my mug?"
Then the first one said, "Who stepped on my bed?"
The second one, "And someone has been lying in my bed."
And so forth until the seventh one, and when he looked at his bed, he found Snow-White lying there, fast asleep. The seven dwarfs all came running, and they cried out with amazement. They fetched their seven candles and looked at Snow-White. "Good heaven! Good heaven!" they cried. "She is so beautiful!" They liked her very much. They did not wake her up, but let her lie there in the bed. The seventh dwarf had to sleep with his companions, one hour with each one, and then the night was done.
When Snow-White woke up, they asked her who she was and how she had found her way to their house. She told them how her mother had tried to kill her, how the huntsman had spared her life, how she had run the entire day, finally coming to their house. The dwarfs pitied her and said, "If you will keep house for us, and cook, sew, make beds, wash, and knit, and keep everything clean and orderly, then you can stay here, and you'll have everything that you want. We come home in the evening, and supper must be ready by then, but we spend the days digging for gold in the mine. You will be alone then. Watch out for the queen, and do not let anyone in."
The queen thought that she was again the most beautiful woman in the land, and the next morning she stepped before the mirror and asked:
Mirror, mirror, on the wall,

Who in this land is fairest of all?
The mirror answered once again:
You, my queen, are fair; it is true.

But Little Snow-White beyond the seven mountains

Is a thousand times fairer than you.
It startled the queen to hear this, and she knew that she had been deceived, that the huntsman had not killed Snow-White. Because only the seven dwarfs lived in the seven mountains, she knew at once that they must have rescued her. She began to plan immediately how she might kill her, because she would have no peace until the mirror once again said that she was the most beautiful woman in the land. At last she thought of something to do. She disguised herself as an old peddler woman and colored her face, so that no one would recognize her, and went to the dwarf's house. Knocking on the door she called out, "Open up. Open up. I'm the old peddler woman with good wares for sale."
Snow-White peered out the window, "What do you have?"
"Bodice laces, dear child," said the old woman, and held one up. It was braided from yellow, red, and blue silk. "Would you like this one?"
"Oh, yes," said Snow-White, thinking, "I can let the old woman come in. She means well." She unbolted the door and bargained for the bodice laces.
"You are not laced up properly," said the old woman. "Come here, I'll do it better." Snow-White stood before her, and she took hold of the laces and pulled them so tight that Snow-White could not breathe, and she fell down as if she were dead. Then the old woman was satisfied, and she went away.
Nightfall soon came, and the seven dwarfs returned home. They were horrified to find their dear Snow-White lying on the ground as if she were dead. They lifted her up and saw that she was laced up too tightly. They cut the bodice laces in two, and then she could breathe, and she came back to life. "It must have been the queen who tried to kill you," they said. "Take care and do not let anyone in again."
The queen asked her mirror:
Mirror, mirror, on the wall,

Who in this land is fairest of all?
The mirror answered once again:
You, my queen, are fair; it is true.

But Little Snow-White with the seven dwarfs

Is a thousand times fairer than you.
She was so horrified that the blood all ran to her heart, because she knew that Snow-White had come back to life. Then for an entire day and a night she planned how she might catch her. She made a poisoned comb, disguised herself differently, and went out again. She knocked on the door, but Snow-White called out, "I am not allowed to let anyone in."
Then she pulled out the comb, and when Snow-White saw how it glistened, and noted that the woman was a complete stranger, she opened the door, and bought the comb from her. "Come, let me comb your hair," said the peddler woman. She had barely stuck the comb into Snow-White's hair, before the girl fell down and was dead. "That will keep you lying there," said the queen. And she went home with a light heart.
The dwarfs came home just in time. They saw what had happened and pulled the poisoned comb from her hair. Snow-White opened her eyes and came back to life. She promised the dwarfs not to let anyone in again.
The queen stepped before her mirror:
Mirror, mirror, on the wall,

Who in this land is fairest of all?
You, my queen, are fair; it is true.

But Little Snow-White with the seven dwarfs

Is a thousand times fairer than you.
When the queen heard this, she shook and trembled with anger, "Snow-White will die, if it costs me my life!" Then she went into her most secret room — no one else was allowed inside — and she made a poisoned, poisoned apple. From the outside it was red and beautiful, and anyone who saw it would want it. Then she disguised herself as a peasant woman, went to the dwarfs' house and knocked on the door.
Snow-White peeped out and said, "I'm not allowed to let anyone in. The dwarfs have forbidden it most severely."
"If you don't want to, I can't force you," said the peasant woman. "I am selling these apples, and I will give you one to taste."
"No, I can't accept anything. The dwarfs don't want me to."
"If you are afraid, then I will cut the apple in two and eat half of it. Here, you eat the half with the beautiful red cheek!" Now the apple had been so artfully made that only the red half was poisoned. When Snow-White saw that the peasant woman was eating part of the apple, her desire for it grew stronger, so she finally let the woman hand her the other half through the window. She bit into it, but she barely had the bite in her mouth when she fell to the ground dead.
The queen was happy, went home, and asked her mirror:
Mirror, mirror, on the wall,

Who in this land is fairest of all?
You, my queen, are fairest of all.
"Now I'll have some peace," she said, "because once again I'm the most beautiful woman in the land. Snow-White will remain dead this time."
That evening the dwarfs returned home from the mines. Snow-White was lying on the floor, and she was dead. They loosened her laces and looked in her hair for something poisonous, but nothing helped. They could not bring her back to life. They laid her on a bier, and all seven sat next to her and cried and cried for three days. They were going to bury her, but they saw that she remained fresh. She did not look at all like a dead person, and she still had beautiful red cheeks. They had a glass coffin made for her, and laid her inside, so that she could be seen easily. They wrote her name and her ancestry on it in gold letters, and one of them always stayed at home and kept watch over her.
Snow-White lay there in the coffin a long, long time, and she did not decay. She was still as white as snow and as red as blood, and if she had been able to open her eyes, they still would have been as black as ebony wood. She lay there as if she were asleep.
One day a young prince came to the dwarfs' house and wanted shelter for the night. When he came into their parlor and saw Snow-White lying there in a glass coffin, illuminated so beautifully by seven little candles, he could not get enough of her beauty. He read the golden inscription and saw that she was the daughter of a king. He asked the dwarfs to sell him the coffin with the dead Snow-White, but they would not do this for any amount of gold. Then he asked them to give her to him, for he could not live without being able to see her, and he would keep her, and honor her as his most cherished thing on earth. Then the dwarfs took pity on him and gave him the coffin.
The prince had it carried to his castle, and had it placed in a room where he sat by it the whole day, never taking his eyes from it. Whenever he had to go out and was unable to see Snow-White, he became sad. And he could not eat a bite, unless the coffin was standing next to him. Now the servants who always had to carry the coffin to and fro became angry about this. One time one of them opened the coffin, lifted Snow-White upright, and said, "We are plagued the whole day long, just because of such a dead girl," and he hit her in the back with his hand. Then the terrible piece of apple that she had bitten off came out of her throat, and Snow-White came back to life.
She walked up to the prince, who was beside himself with joy to see his beloved Snow-White alive. They sat down together at the table and ate with joy.
Their wedding was set for the next day, and Snow-White's godless mother was invited as well. That morning she stepped before the mirror and said:
Mirror, mirror, on the wall,

Who in this land is fairest of all?

The mirror answered:

You, my queen, are fair; it is true.

But the young queen

Is a thousand times fairer than you.
She was horrified to hear this, and so overtaken with fear that she could not say anything. Still, her jealousy drove her to go to the wedding and see the young queen. When she arrived she saw that it was Snow-White. Then they put a pair of iron shoes into the fire until they glowed, and she had to put them on and dance in them. Her feet were terribly burned, and she could not stop until she had danced herself to death.
The Real Story of Pinocchio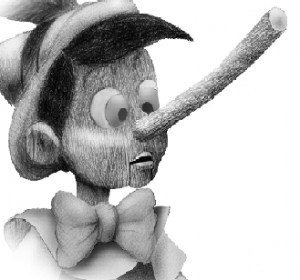 Once upon a time, Gepetto, an old woodsman, living in the great Italian pine forest, was lonely. He always dreamed about having a son.
Each day, he went cutting woods for the town's people. One day, an idea illuminated his mind, the idea of crafting a puppet, which he will call it Pinocchio. He crafted that puppet and during the night, the puppet becomes alive!
One year of happiness and thriller passed, on a Sunday morning, Gepetto told Pinocchio:
''It's my birthday soon, my little son! I hope you didn't forget it!''
Pinocchio felt awkward. He didn't thought about that. Gepetto's birthday was coming in only three days, and he hadn't even a present.
After a long night of reflecting, Pinocchio finally decided to offer a homemade chocolate cake to him as a present.
When the sun rose, Pinocchio was already ready to go outside find the ingredients. The main problem was he didn't even known the in and the recipe.
So after school, he decided to go ask someone for the ingredients to bake a cake. During his walk, Pinocchio, the wooden puppet, met the town's sorcerer.
''Hey, little boy, do you need some help for your chocolate cake?''
''Hum…You can help me?'', asked Pinocchio.
''Sure, I can. Follow me!''
After walking few minutes so, Pinocchio saw a big, big, big candy house. They entered together and Pinocchio got caught by a big cage.
''Mouahahaha!!! I finally caught you! You'll be mine, you're gonna work for me!'', said the evil sorcerer.
Pinocchio was so scared. When the guards came and took him out of the cage, he immediately ran away very fast and he succeeded to escape.
At the same time, the evil sorcerer, calling all his troops with him, ran after him and he took out his magic wand. The evil devil changed the little wooden puppet into a chocolate cake!
When he came back home, he told the entire story to his father and they went to find the god fairy.
After a long trip, they finally find the god fairy and they got the magical potion for Pinocchio.
Sangkuriang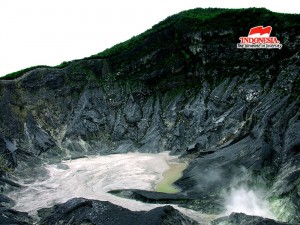 Long time ago in West Java, lived a beautiful girl named Dayang Sumbi. She was also smart and clever. Her beauty and intelligence made a prince from the heavenly kingdom of Kahyangan desire her as his wife. The prince asked permission from his father to marry Dayang Sumbi. People from Kahyangan could never live side by side with humans, but his father approved on one condition, when they had a child, the prince would transform into a dog. The prince accepted the condition.
They get married and lived happily in the woods until Dayang Sumbi gave birth to a baby boy. The prince then changed into a dog named Tumang. Their son is named Sangkuriang. He was very smart and handsome like his father. Everyday, he hunted animals and looked for fruits to eat. One day, when he was hunting, Sangkuriang accidentally killed Tumang. His arrow missed the deer he was targeting and hit Tumang instead. He went home and tells her mother about the dog. "What?" Dayang Sumbi was appalled. Driven by sadness and anger, she grabbed a weaving tool and hit Sangkuriang's head with it. Dayang Sumbi was so sad; she didn't pay any attention to Sangkuriang and started to cry.
Sangkuriang feel sad and also confused. How can his mother love a dog more than him? Sangkuriang then decided to go away from their home and went on a journey. In the morning, Dayang Sumbi finally stopped crying. She started to feel better, so she went to find Sangkuriang. But her son was no where to be found. She looked everywhere but still couldn't find him. Finally, she went home with nothing. She was exhausted. She fell asleep, and in her dream, she meets her husband. "Dayang Sumbi, don't be sad. Go look for my body in the woods and get the heart. Soak it with water, and use the water to bathe, and you will look young forever," said the prince in her dream. After bathing with the water used to soak the dog's heart, Dayang Sumbi looked more beautiful and even younger.
And time passed by. Sangkuriang on his journey stopped at a village and met and fell in love with a beautiful girl.He didn't realize that the village was his homeland and the beautiful girl was his own mother, Dayang Sumbi. Their love grew naturally and he asked the girl to marry him. One day, Sangkuriang was going on a hunt. He asked Dayang Sumbi to fix the turban on his head. Dayang Sumbi was startled when she saw a scar on his head at the same place where she, years ago, hit Sangkuriang on the head.
After the young man left, Dayang Sumbi prayed for guidance. After praying, she became convinced that the young man was indeed her missing son. She realized that she had to do something to prevent Sangkuriang from marrying her. But she did not wish to disappoint him by cancelling the wedding. So, although she agreed to marry Sangkuriang, she would do so only on the condition that he provides her with a lake and built a beautiful boat, all in one night.
Sangkuriang accepted this condition without a doubt. He had spent his youth studying magical arts. After the sun went down, Sangkuriang went to the hill. Then he called a group of genie to build a dam around Citarum River. Then, he commands the genies to cut down trees and build a boat. A few moments before dawn, Sangkuriang and his genie servants almost finished the boat.
Dayang Sumbi, who had been spying on him, realised that Sangkuriang would fulfill the condition she had set. Dayang Sumbi immediately woke all the women in the village and asked them to wave a long red scarf. All the women in the village were waving red scarf, making it look as if dawn was breaking. Deceived by false dawn, the cock crowed and farmers rose for the new day.
Sangkuriang's genie servants immediately dropped their work and ran for cover from the sun, which they feared. Sangkuriang grew furious. With all his anger, he kicked the unfinished boat. The boat flew and landed on a valley. The boat then became a mountain, called Mount Tangkuban Perahu (Tangkuban means upturned or upside down, and Perahu means boat). With his power, he destroyed the dam. The water drained from the lake becoming a wide plain and nowadays became a city called Bandung (from the word Bendung, which means Dam).
Cinderella
Once there was a gentleman who married, for his second wife, the proudest and most haughty woman that was ever seen. She had, by a former husband, two daughters of her own humor, who were, indeed, exactly like her in all things. He had likewise, by another wife, a young daughter, but of unparalleled goodness and sweetness of temper, which she took from her mother, who was the best creature in the world.
No sooner were the ceremonies of the wedding over but the mother-in-law began to show herself in her true colors. She could not bear the good qualities of this pretty girl, and the less because they made her own daughters appear the more odious. She employed her in the meanest work of the house: she scoured the dishes, tables, etc., and scrubbed madam's chamber, and those of misses, her daughters; she lay up in a sorry garret, upon a wretched straw bed, while her sisters lay in fine rooms, with floors all inlaid, upon beds of the very newest fashion, and where they had looking-glasses so large that they might see themselves at their full length from head to foot.
The poor girl bore all patiently, and dared not tell her father, who would have rattled her off; for his wife governed him entirely. When she had done her work, she used to go into the chimney-corner, and sit down among cinders and ashes, which made her commonly be called Cinderwench; but the youngest, who was not so rude and uncivil as the eldest, called her Cinderella. However, Cinderella, notwithstanding her mean apparel, was a hundred times handsomer than her sisters, though they were always dressed very richly.
It happened that the King's son gave a ball, and invited all persons of fashion to it. Our young misses were also invited, for they cut a very grand figure among the quality. They were mightily delighted at this invitation, and wonderfully busy in choosing out such gowns, petticoats, and head-clothes as might become them. This was a new trouble to Cinderella; for it was she who ironed her sisters' linen, and plaited their ruffles; they talked all day long of nothing but how they should be dressed.
"For my part," said the eldest, "I will wear my red velvet suit with French trimming."
"And I," said the youngest, "shall have my usual petticoat; but then, to make amends for that, I will put on my gold-flowered manteau, and my diamond stomacher, which is far from being the most ordinary one in the world."
They sent for the best tire-woman they could get to make up their head-dresses and adjust their double pinners, and they had their red brushes and patches from Mademoiselle de la Poche.
Cinderella was likewise called up to them to be consulted in all these matters, for she had excellent notions, and advised them always for the best, nay, and offered her services to dress their heads, which they were very willing she should do. As she was doing this, they said to her:
"Cinderella, would you not be glad to go to the ball?"
"Alas!" said she, "you only jeer me; it is not for such as I am to go thither."
"Thou art in the right of it," replied they; "it would make the people laugh to see a Cinderwench at a ball."
Anyone but Cinderella would have dressed their heads awry, but she was very good, and dressed them perfectly well They were almost two days without eating, so much were they transported with joy. They broke above a dozen laces in trying to be laced up close, that they might have a fine slender shape, and they were continually at their looking-glass. At last the happy day came; they went to Court, and Cinderella followed them with her eyes as long as she could, and when she had lost sight of them, she fell a-crying.
Her godmother, who saw her all in tears, asked her what was the matter.
"I wish I could–I wish I could–"; she was not able to speak the rest, being interrupted by her tears and sobbing.
This godmother of hers, who was a fairy, said to her, "Thou wishest thou couldst go to the ball; is it not so?"
"Y–es," cried Cinderella, with a great sigh.
"Well," said her godmother, "be but a good girl, and I will contrive that thou shalt go." Then she took her into her chamber, and said to her, "Run into the garden, and bring me a pumpkin."
Cinderella went immediately to gather the finest she could get, and brought it to her godmother, not being able to imagine how this pumpkin could make her go to the ball. Her godmother scooped out all the inside of it, having left nothing but the rind; which done, she struck it with her wand, and the pumpkin was instantly turned into a fine coach, gilded all over with gold.
She then went to look into her mouse-trap, where she found six mice, all alive, and ordered Cinderella to lift up a little the trapdoor, when, giving each mouse, as it went out, a little tap with her wand, the mouse was that moment turned into a fine horse, which altogether made a very fine set of six horses of a beautiful mouse-colored dapple-gray. Being at a loss for a coachman,
"I will go and see," says Cinderella, "if there is never a rat in the rat-trap–we may make a coachman of him."
"Thou art in the right," replied her godmother; "go and look."
Cinderella brought the trap to her, and in it there were three huge rats. The fairy made choice of one of the three which had the largest beard, and, having touched him with her wand, he was turned into a fat, jolly coach- man, who had the smartest whiskers eyes ever beheld. After that, she said to her:
"Go again into the garden, and you will find six lizards behind the watering-pot, bring them to me."
She had no sooner done so but her godmother turned them into six footmen, who skipped up immediately behind the coach, with their liveries all bedaubed with gold and silver, and clung as close behind each other as if they had done nothing else their whole lives. The Fairy then said to Cinderella: "Well, you see here an equipage fit to go to the ball with; are you not pleased with it?"
"Oh! yes," cried she; "but must I go thither as I am, in these nasty rags?"
Her godmother only just touched her with her wand, and, at the same instant, her clothes were turned into cloth of gold and silver, all beset with jewels. This done, she gave her a pair of glass slippers, the prettiest in the whole world. Being thus decked out, she got up into her coach; but her godmother, above all things, commanded her not to stay till after midnight, telling her, at the same time, that if she stayed one moment longer, the coach would be a pumpkin again, her horses mice, her coachman a rat, her footmen lizards, and her clothes become just as they were before.
She promised her godmother she would not fail of leaving the ball before midnight; and then away she drives, scarce able to contain herself for joy. The King's son who was told that a great princess, whom nobody knew, was come, ran out to receive her; he gave her his hand as she alighted out of the coach, and led her into the ball, among all the company. There was immediately a profound silence, they left off dancing, and the violins ceased to play, so attentive was everyone to contemplate the singular beauties of the unknown new-comer. Nothing was then heard but a confused noise of:
"Ha! how handsome she is! Ha! how handsome she is!"
The King himself, old as he was, could not help watching her, and telling the Queen softly that it was a long time since he had seen so beautiful and lovely a creature.
All the ladies were busied in considering her clothes and headdress, that they might have some made next day after the same pattern, provided they could meet with such fine material and as able hands to make them.
The King's son conducted her to the most honorable seat, and afterward took her out to dance with him; she danced so very gracefully that they all more and more admired her. A fine collation was served up, whereof the young prince ate not a morsel, so intently was he busied in gazing on her.
She went and sat down by her sisters, showing them a thousand civilities, giving them part of the oranges and citrons which the Prince had presented her with, which very much surprised them, for they did not know her. While Cinderella was thus amusing her sisters, she heard the clock strike eleven and three-quarters, whereupon she immediately made a courtesy to the company and hasted away as fast as she could.
When she got home she ran to seek out her godmother, and, after having thanked her, she said she could not but heartily wish she might go next day to the ball, because the King's son had desired her.
As she was eagerly telling her godmother whatever had passed at the ball, her two sisters knocked at the door, which Cinderella ran and opened.
"How long you have stayed!" cried she, gaping, rubbing her eyes and stretching herself as if she had been just waked out of her sleep; she had not, however, any manner of inclination to sleep since they went from home.
"If thou hadst been at the ball," said one of her sisters, "thou wouldst not have been tired with it. There came thither the finest princess, the most beautiful ever was seen with mortal eyes; she showed us a thousand civilities, and gave us oranges and citrons."
Cinderella seemed very indifferent in the matter; indeed, she asked them the name of that princess; but they told her they did not know it, and that the King's son was very uneasy on her account and would give all the world to know who she was. At this Cinderella, smiling, replied:
"She must, then, be very beautiful indeed; how happy you have been! Could not I see her? Ah! dear Miss Charlotte, do lend me your yellow suit of clothes which you wear every day."
"Ay, to be sure!" cried Miss Charlotte; "lend my clothes to such a dirty Cinderwench as thou art! I should be a fool."
Cinderella, indeed, expected well such answer, and was very glad of the refusal; for she would have been sadly put to it if her sister had lent her what she asked for jestingly.
The next day the two sisters were at the ball, and so was Cinderella, but dressed more magnificently than before. The King's son was always by her, and never ceased his compliments and kind speeches to her; to whom all this was so far from being tiresome that she quite forgot what her godmother had recommended to her; so that she, at last, counted the clock striking twelve when she took it to be no more than eleven; she then rose up and fled, as nimble as a deer. The Prince followed, but could not overtake her. She left behind one of her glass slippers, which the Prince took up most carefully. She got home but quite out of breath, and in her nasty old clothes, having nothing left her of all her finery but one of the little slippers, fellow to that she dropped. The guards at the palace gate were asked:
If they had not seen a princess go out.
Who said: They had seen nobody go out but a young girl, very meanly dressed, and who had more the air of a poor country wench than a gentlewoman.
When the two sisters returned from the ball Cinderella asked them: If they had been well diverted, and if the fine lady had been there.
They told her: Yes, but that she hurried away immediately when it struck twelve, and with so much haste that she dropped one of her little glass slippers, the prettiest in the world, which the King's son had taken up; that he had done nothing but look at her all the time at the ball, and that most certainly he was very much in love with the beautiful person who owned the glass slipper.
What they said was very true; for a few days after the King's son caused it to be proclaimed, by sound of trumpet, that he would marry her whose foot the slipper would just fit. They whom he employed began to try it upon the princesses, then the duchesses and all the Court, but in vain; it was brought to the two sisters, who did all they possibly could to thrust their foot into the slipper, but they could not effect it. Cinderella, who saw all this, and knew her slipper, said to them, laughing:
"Let me see if it will not fit me."
Her sisters burst out a-laughing, and began to banter her. The gentleman who was sent to try the slipper looked earnestly at Cinderella, and, finding her very handsome, said:
It was but just that she should try, and that he had orders to let everyone make trial.
He obliged Cinderella to sit down, and, putting the slipper to her foot, he found it went on very easily, and fitted her as if it had been made of wax. The astonishment her two sisters were in was excessively great, but still abundantly greater when Cinderella pulled out of her pocket the other slipper, and put it on her foot. Thereupon, in came her godmother, who, having touched with her wand Cinderella's clothes, made them richer and more magnificent than any of those she had before.
And now her two sisters found her to be that fine, beautiful lady whom they had seen at the ball. They threw themselves at her feet to beg pardon for all the ill- treatment they had made her undergo. Cinderella took them up, and, as she embraced them, cried:
That she forgave them with all her heart, and desired them always to love her.
She was conducted to the young prince, dressed as she was; he thought her more charming than ever, and, a few days after, married her. Cinderella, who was no less good than beautiful, gave her two sisters lodgings in the palace.